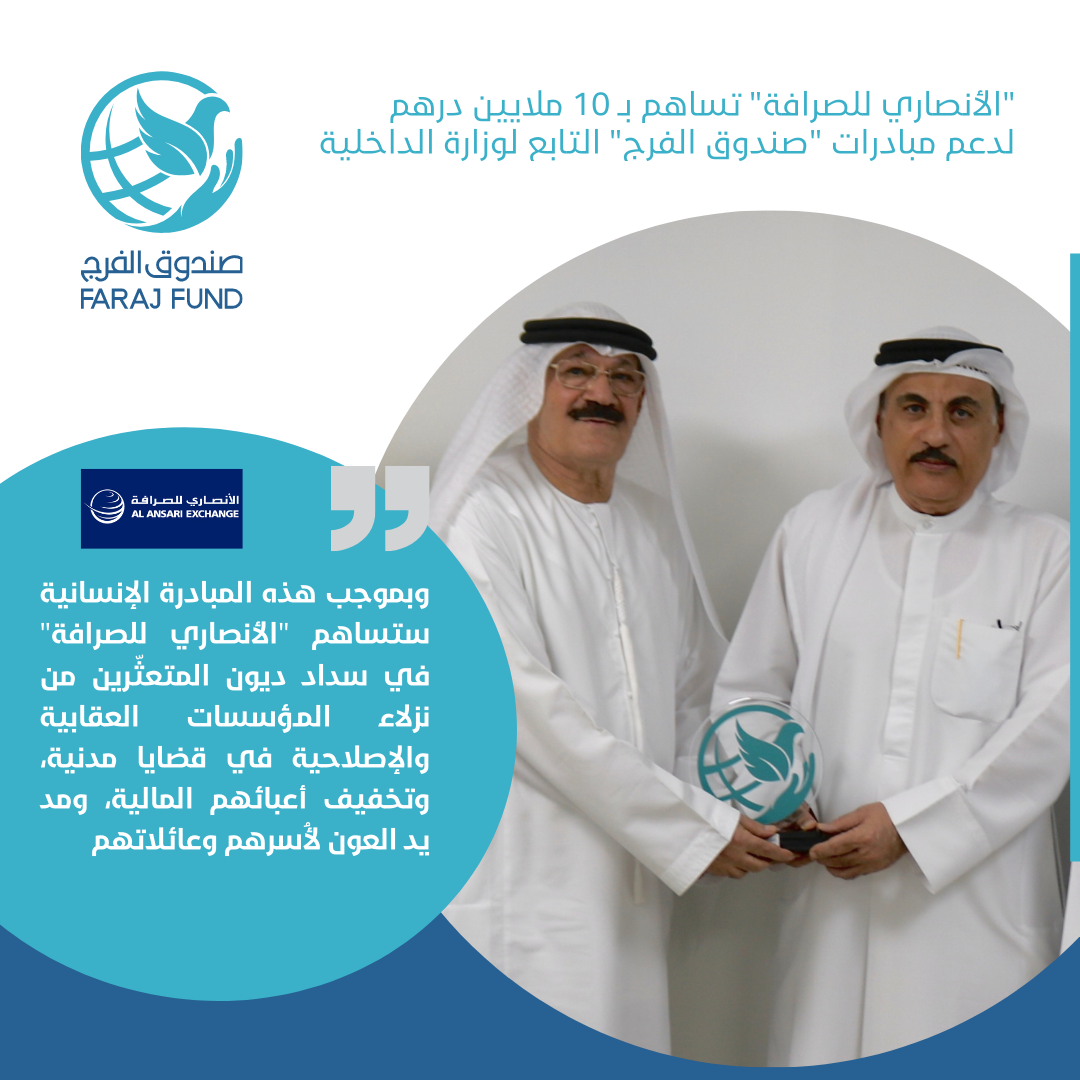 07.03.2022
Al Ansari Exchange contributes 10 million dirhams to support the initiatives of the "Faraj Fund"
With respect to the memorandum of understanding between the Ministry of Interior's subsidiary, Faraj Fund, and Al Ansari Exchange, Al Ansari donated AED 10 million to the Fund in support of its charitable and humanitarian activities for the year 2022 by assisting inmates facing financial and civil issues held in Penal and Correctional Institutions within the country.  
In repaying the debts of the insolvent inmates in Penal Institutions, Al Ansari Exchange undertakes this humanitarian initiative to rehabilitate civil cases, ease their financial pressures and extend a helping hand to their children and families. This step is in line with the company's Corporate Social Responsibility and demonstrates its eagerness to enhance the spirit of compassion and social solidarity.
As the first stage of implementation of the memorandum, an amount of (2,300,000) two million three hundred thousand dirhams was conferred from the donation made by Al Ansari Exchange to the release of 69 inmates from all penal and correctional institutions across the country in the last two months.
His Excellency Khalil Daoud Badran, Chairman of the Board of Faraj Fund, under the Ministry of Interior, stressed the importance of reinforcing community partnerships between companies and institutions operating under the public and private sector within the country to enhance the quality of life for the Emirati community while extending his sincere thanks and appreciation to Al Ansari Exchange for supporting this section of the society, playing a pivotal role through Faraj Fund in the society as well as within the nation as a whole, substantiating its pioneering vision in promoting social responsibility.